Full ceramic, high quality tooth-coloured laminates 
- mostly used for front teeth- 
Veneers or ceramic laminates can give a more attractive look. 
Also, veneers are the best option to preserve or design beautiful teeth in case of damage.
Veneers are thin laminates primarily used in the esthetic front area. 
The veneer technique is not, as one might think, a recent invention. It is not widely spread in Europe, but the use is increasing a lot in the last decade. The first veneers were seen in Hollywood in the 1930s by actors to enhance the appearance of the front teeth.
The break-through came after the development of the adhesive technique, since when veneers are used on a large scale in the United States. 
| | |
| --- | --- |
| Discoloration and loss of a filling in a central incisor as a consequence of an accident  | Situation after placing a tooth-coloured ceramic veneer giving a natural appearance  |
---
Veneers are mainly used in dental practices geared towards esthetics if teeth are too damaged to be filled and shouldn't be capped with a crown.
Veneers combine two major advantages: minimal invasive preparation and a look that is very close to natural tooth colour.
As a result you will get beautiful teeth performing in the same way as natural teeth in respect of colour, refraction of colour and durability.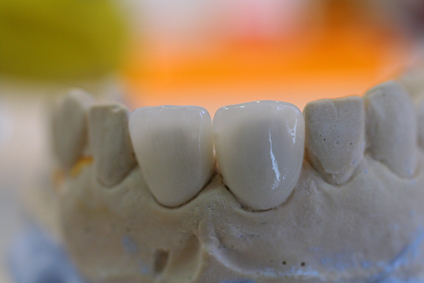 First of all, a thin layer will be removed from the superficial layer of the tooth, (resin) fillings, if existing, too. Cavities (decayed areas) will be cleaned and then integrated in the restauration. After this, the veneer will be manufactured in the laboratory in a complex procedure, based on a previously taken impression. It will then be adjusted and attached to the natural substance by using an adhesive technique.
An organized and highly qualified team is essential to be able to perform the sophisticated  adhesive technique. It has been standard for esthetic orientated surgeries for a long time.
In specific cases the complete process can be finished in just one day using CEREC technology. The perfect esthetic result is phenomenal.
In some countries private insurance compani sometimes refund to certain extent the costs of the treatment. Social security on the other hand as a rule doesn't.