Tooth-coloured restorations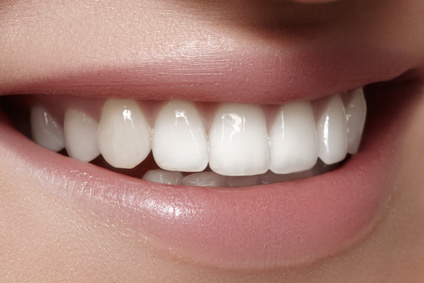 Human resources departments are now evaluating amongst other qualities the personal presentation when they recruit new employees. Missing or unattractive teeth may be detremental for that candidate and he won´t be hired for the job. In private industry beautiful teeth play an important role in personal attraction.
 
In the past the main goal of dental prostetics was to restore the basic functions such as chewing and speaking. Aesthetic issues were not so important, given that there were no adequate tooth-coloured materials available.
For crowns and bridges this has changed with the introduction of ceramic facings in the beginning of the 1980s.
This technique is based on a procedure involving the coating of a metal core with a ceramic tooth-coloured layer in a special oven.
This technique is more demanding for the dentist - preparation is more complicated - and also for the dental technician - there is not only one metal cast as for the old full metal crowns. The ceramic facing has to be fired several times in a special oven.
The result is a restoration that appears natural.
This is now history, the vast majority of crowns incorporated today is metal-free. The core, the framework, is also completely made of ceramics. These full ceramic restaurations are set with a special adhesive technique. In the back teeth the full ceramic technique is based on zirconia, a high performance material. In some cases it is still necessary to work with metal based restoration for static reasons.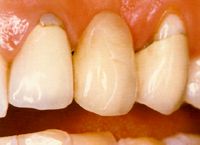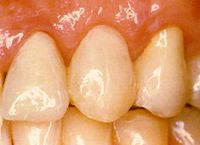 In the front teeth of the upper jaw, metal based crowns can cause very often a unsightly dark margin line.
To enhance the outcome, the dental technician can create a ceramic shoulder in visible areas. This means that the crown margin is not made of metal but of ceramics.
A perfect result can be achieved with the full ceramic crown technique, introduced 10 years ago by using a completely metal-free framework.
The translucency of such a full ceramic restoration is so close to the natural teeth that it is literally impossible to tell the difference between one. There are ceramics specially created for front teeth.
The investment in time and material for the dentist is much higher than that used for conventional work. The special adhesive technique is used to provide the best possible results.
For minimally invasive restorations in the front area the best solution is full ceramic veneers or laminates.
In the field of fillings the most aesthetic results are achieved with ceramic inlays.
Because of the good relationship between price and result the CEREC system can be recommended, as well as for the good results in respect of appearance and long-lasting restorations.
CEREC 3D-Inlays can be modified in the laboratory to enhance the appearence.